%@LANGUAGE="JAVASCRIPT" CODEPAGE="1252"%>

PILL HILL FUNERAL HOMES BROCHURE
Oakland, CA
1950s Promotional Postcard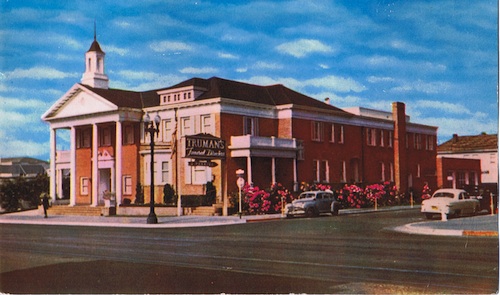 Client
Trammel Crow Residential
Scope
Interpretative Brochure
Cost
N/A
Completed
2009
PROJECT DETAILS
We wrote an interpretative brochure about funerary architecture in the Pill HIll District, as a mitigation measure for demolition of the Truman's Funeral Home building, above.
Our brochure discuse architectural history of six funerary buildings within about a five-block radius of "Pill HIll", the brochure discusses the unique history of the funeral industry in America and Oakland, California, and associated neighbrhood building types such as hospitals, churches, and florists.
The document has been approved pending fina graphic layout and architectural design for a multi-family housing development to be constructed on the Truman site. The preliminary version may be downloaded HERE.