%@LANGUAGE="JAVASCRIPT" CODEPAGE="1252"%>

PERALTA VILLA MULTI-PURPOSE BUILDING
Oakland, CA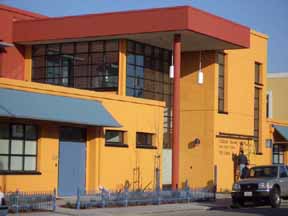 Our design for Peralta Villa sucessfully combines multiple building functions, site and fee constraints into a coherant structure with a logical flow. Red denotes administrative functions within, while tan nidicates community space.
Client
Oakland Housing Authority
Scope
Masterplan,
New Construction
Cost
$4.5 million
Completed
April 2005
PROJECT DETAILS
Located near many Oakland Housing Authority dwellings, the Peralta Villa Multi-Purpose Building houses four non-profit agencies offering services to residents and a police substation on the ground floor. The top floor contains a large community room and separate office complexes for two branches of the OHA, extending in an L beyond the edge of the square-shaped lower level, ending in staircases at the back corners. A diachromatic color scheme distinguishes the two functions of the building.
The building will press against the front edge of the lot to offer the greatest access and secure entrances for the occupants. Firetruck acces is available underneath the upper level building extensions.