Rosemary F. Muller, FAIA
President
Architect, State of California
#C-9186
Civil Engineer, State of California
# CE-24926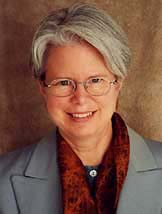 Swarthmore College, University of California, Berkeley, BS Mathematics, 1966
UC Berkeley, Masters Architecture, 1971
UC Berkeley, Masters Structural Engineering, 1974
Rosemary Muller founded Muller & Associates in 1976 and has served as President of Muller & Caulfield Architects since 1993. She has served as Principal in Charge and project designer for a wide variety of institutional projects. Recently she has won two awards for the design of Thousand Oaks School, a new $10M elementary school for Berkeley Unified School District.
Rosemary Muller has had a long-standing involvement in site design, placing particular interest in the development of the building and site as an integrated whole. For over ten years she has taught a well known course to intern architects on the technical and aesthetic aspects of site design and site grading. Thousand Oaks School is an example of a project that emphasizes site design, by integrating the design of the buildings with the contours of the gently sloping site.
Rosemary also excels at leading meetings and articulating the needs of clients. She developed an issue based design process to achieve consensus between owners, users, and public administrators, which she has taught to all of the Muller & Caulfield project managers.
Numerous awards have been bestowed upon Rosemary for her community leadership in rebuilding following the Loma Prieta earthquake and the Oakland fire. She succeeded in developing a consensus between warring historic preservationists, building owners, and structural engineers on a new ordinance for seismic upgrade of unreinforced masonry buildings in the City of Oakland.
Rosemary has been a leader in seismic safety since 1972. She was appointed by the Governor to the State Seismic Safety Commission (representing the architectural community) from 1984 to 1987. She has been active with ICBO (the agency that writes the building codes) and the Office of the State Architect on committees dealing with seismic safety. Recent projects emphasizing seismic safety include upgrade of essential facilities as well as historic buildings.
Rosemary lives in Berkeley with her husband, physicist, Richard Muller,
(http://muller.lbl.gov)
and two college-aged daughters.